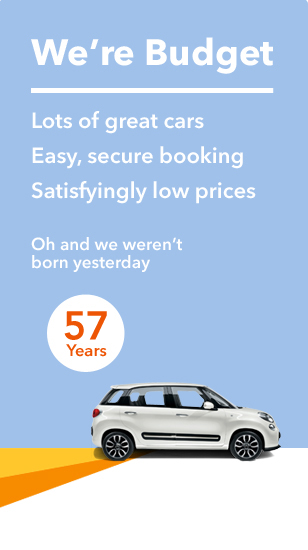 Other car hire locations
Car hire Bristol Airport
Rent a Budget hire care when you arrive at Bristol Airport, we are conveniently located in the terminal building.
Rent a car at Bristol Airport
Bristol Airport
Bristol Airport
Bristol
BS48 3DS
Tel: 03445444667
Opening hours
sunday:

07:30 - 23:30 Hrs


monday:

07:00 - 23:30 Hrs


tuesday:

07:00 - 23:30 Hrs


wednesday:

07:00 - 23:30 Hrs


thursday:

07:00 - 23:30 Hrs


friday:

07:00 - 23:30 Hrs


saturday:

07:00 - 23:00 Hrs

Other Budget locations nearby
Budget Rent-A-Car at Bristol Airport
View our convenient Budget car hire location on the map below.
Explore Bristol with Budget Car Hire
Explore the Bristol area in your hire car
Bristol Airport is the gateway to this historic city located in south-west England. This airport is not a huge distance from Bristol's city centre.
Once you have landed at the airport and settled in at your hotel, you have access to all the history, culture and nightlife that Bristol has to offer.
Whether your interest is in architectural styles, English arts and culture, or the best dance clubs around, you will find something to suit you in the city. A bonus is that the coast is only a short car ride away from Bristol.
Of course, to reach the coast you will need to use public transport or even better, a convenient car rental vehicle.
This is where the convenience of Budget comes in; the variety of the rental cars available guarantees that you'll find a vehicle to meet your needs.
There are some impressive tourist attractions in Bristol; the cathedral is an interesting place to start, where you can absorb both architectural and religious history. This church, originally a Norman abbey, is imposing with its Gothic flourishes. The cathedral was subject to major rebuilding in the 19th century and was finally completed in 1888.
Built in 1590, Bristol's Red Lodge is another important historical attraction in the city. The first floor even has rooms that have been preserved from the 16th century.
This attraction is easily reachable by using a car. For those visiting Bristol with a family, there are several attractions that may interest children. For example, Bristol Zoo Gardens provides children with an opportunity to learn about the resident animals.
At-Bristol is another destination for the whole family, and contains no less than three family attractions, the IMAX Theatre At-Bristol, Explore At-Bristol and Wildwalk At-Bristol.
By getting a cheap car rental you can treat yourselves to an entire day out of fun. There are many options open to you when you book with us!
Scenic car rental rides from Bristol Airport
There are many scenic car trips that may be taken from Bristol Airport. The drive from Bristol to Cheddar Gorge has long been a popular route with tourists.
The popularity of this route is due to the grandeur of the Cheddar Caves. An underground river formed these caves, which have numerous naturally illuminated stalagmites and stalactites.
There are also stunning limestone cliffs in the area, of over 100 metres in height. The Gorge itself is almost five kilometres long.
As the oldest human skeleton ever to be found in Britain was discovered in these caves, this fascinating site gives visitors an insight into the prehistory of Britain.
There is also a wide variety of rare wildlife in the area, including water voles, door mice and peregrine falcons, as well as a wide variety of rare bat species.
This interesting fauna found in the area is another good reason to visit. Other popular car trips from Bristol include to Wiltshire, where Stonehenge can be visited, and Somerset, which has a wide array of historical sites, as well as striking natural scenery.
No matter which car trip you choose to take, our service gives you the best way to get there.