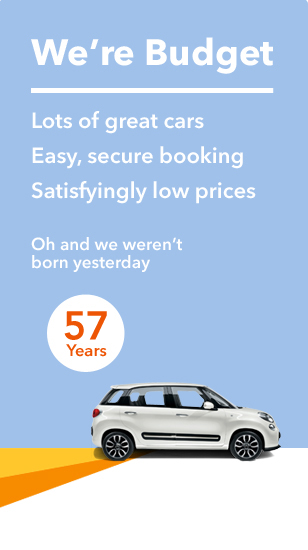 Other car hire locations
Car hire Menorca Airport
Enjoy your time in Menorca with Budget Car Hire. Our airport location provides quality hire cars and friendly service at a great value price.
Let's go. Enter your rental dates in the form on the right to get a quote.
Car keys ready? We have put together some great suggestions below to ensure you get the most of your car hire.
Rent a car at Menorca Airport
Mahon Airport
Menorca Mahon Airport
Menorca
07700
Tel: 902 090 272
Opening hours
sunday:

07:00 - 22:30 Hrs


monday:

07:00 - 22:30 Hrs


tuesday:

07:00 - 22:30 Hrs


wednesday:

07:00 - 22:30 Hrs


thursday:

07:00 - 22:30 Hrs


friday:

07:00 - 22:30 Hrs


saturday:

07:00 - 22:30 Hrs

Budget Rent-A-Car at Menorca Mahon Airport
View our convenient Budget car hire location on the map below.
Explore Menorca with Budget Car Hire
Explore Menorca in a Budget hire car
With your own car you can be independent and explore Menorca at your own pace. Budget provides great prices and a quality service, so don't wait until the last minute to book your car.
For those of you who want to discover the secrets of this island, Budget can reveal the best places to explore with your rental car, as well as the range of things to do when you are in Menorca. It is such an amazing destination that you will be sure to return.
Menorca is one of the Balearic Islands, along with Mallorca, Ibiza and Formentera. It enjoys a Mediterranean climate with an average temperature of 25 degrees in summer and 12 degrees in winter. This means that it is possible to enjoy the sun and the beach almost 7 months of the year, from April until November.
One of the main tourist attractions of the island is the 'calas'. These are small beaches surrounded by sea, forest and rocks, where you could be forgiven for believing you were on a Caribbean beach.
Some of the best beaches in Menorca are the Cala Macarela, the Cala Galdana, or the Cala Turqueta. The Cala Macarela is typical of what you would find on a picture post card.
The Cala Galdana is an extensive beach, great to enjoy with your family and also perfect for surfing. Finally, the Cala Turqueta is popular because of its wonderful panoramic views.
Besides the marvelous beaches of Menorca, the island has a number of historical monuments; for instance, the megaliths and 'taulas', a type of T-shaped stone monument.
You can also visit the Placa Esplanada, a big square in Mahón full of flowers and life, or the Sant Nicolau Castle, which was built in the 17th-century.