Cheap Car Hire at Seattle Airport (SEA)
Need a fast, reliable car hire service in Seattle? Our airport location provides quality hire cars and friendly service at a great value price.
Let's go. Enter your rental dates in the form on the right to get a quote.
Car keys ready? We have put together some great suggestions below to ensure you get the most of your Seattle car hire.
Rent a car at Seattle Airport
Tacoma Airport
3150 South 160Th Street
Seatac
98188
Tel: 206-444-7510
Opening hours
sunday:

00:00 - 23:59 Hrs


monday:

00:00 - 23:59 Hrs


tuesday:

00:00 - 23:59 Hrs


wednesday:

00:00 - 23:59 Hrs


thursday:

00:00 - 23:59 Hrs


friday:

00:00 - 23:59 Hrs


saturday:

00:00 - 23:59 Hrs

Budget Rent-A-Car at Seattle Tacoma Airport
View our convenient Budget car hire location on the map below.
Explore Seattle with Budget Car Hire
Car hire in Seattle and Washington
Seattle is the largest city in the Pacific North-west. A major seaport, Seattle is located on a narrow strip of land situated between Lake Washington and the coastal waterway known as Puget Sound.
In the last 20 years or so, the city has experienced an economic revival, largely due to the success of computer and biotechnology companies, as well as industries promoting sustainable development.
Throughout this period, the Seattle music scene has also drawn visitors to clubs where grunge rock and independent music was performed live by groups, some of which went on to become world famous, including Pearl Jam and Nirvana.
A car makes it possible to visit Tacoma, a city located about 30-minutes south of Seattle along Interstate 5, a highway that runs from north to south through the entire state. This is the location of the Dale Chihuly Museum of Glass, which provides a gateway to the Bridge of Glass.
Park your vehicle and walk across this pedestrian-only structure to the waterfront, admiring the pieces of glass that are embedded everywhere you look. Visitors who want to try their hand at the art of glass-blowing can drive their hire car over to South 23rd Street where the Tacoma Glass-blowing Studio will teach you how to fashion something interesting from molten glass.
Tacoma and the History Museum
Tacoma is also the site of the Washington State History Museum, where visitors can learn about the Native American tribes that originally populated the region and also explore the issues related to the 'Klondike Gold Rush,' during which Seattle was a major launching point for prospectors heading to Alaska.
Nature lovers may wish to take their car eastwards instead. A 30-minute drive along Interstate 90 will bring you to Snoqualmie Falls, a waterfall with a drop of nearly 300ft.
Some may wonder if the cool environment of the dank forest habitat will chill their bones, but they can rest assured that their car will feature a heating or climate control system that will keep them warm and comfortable as they drive through the Cascade mountain range, where the Snoqualmie Falls are situated.
A car will also enable tourists to travel out to Mount Rainier, a towering volcano with a peak more than 14,000 feet above sea level. In the winter, visitors to Seattle might like to take the three-hour drive out to the mountain, where they can enjoy a variety of sports, such as snowboarding, skiing, snowmobiling and sledging.
Winter sports enthusiasts who bring their own gear will enjoy the large cargo area provided by our rental cars. As driving can be challenging when snow lies on the ground, tourists arriving in Seattle in December or January may like to hire a four-wheel drive vehicle.
This is a feature that anyone renting a car at this time of year should think about, as it is quite possible that they might be driving on roads covered with snow.
A ferry to Bainbridge Island
One of the most popular ferry routes is to Bainbridge Island. From there, tourists can enjoy an impressive view of Seattle's skyline as they explore the boutiques and galleries that feature unusual gift items made by artisans working in the Pacific North-west, such as carved driftwood or small representations of Native American totem poles. It takes little more than 30-minutes to reach Bainbridge Island via the Washington State Ferry.
A few attractions
The iconic Space Needle is the internationally recognised symbol of Seattle and is also a tourist attraction that no visitor should miss. Another popular attraction in the city is the fleet of ferries that ply the nearby waterways, taking visitors to the multitude of small islands that dot Puget Sound.
Booking a car will mean that visitors can spend their money taking full advantage of these ferries, which offer a great way of gaining access to some of the most stunning scenery in the entire USA.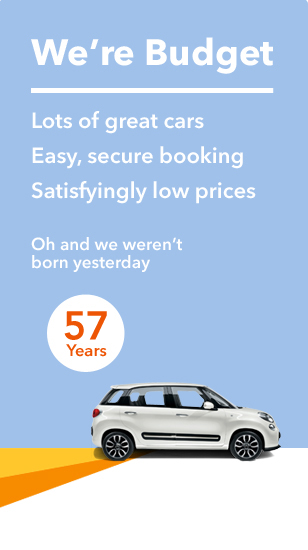 Other car hire locations