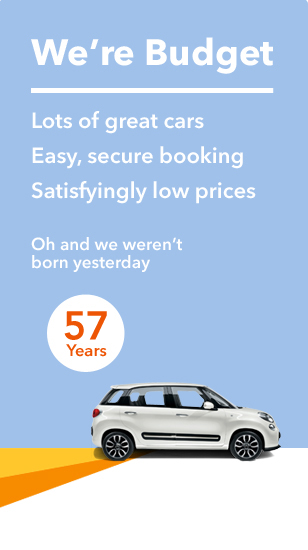 Other car hire locations
Car hire Edinburgh Railway Station
Enjoy your time in Edinburgh with Budget Car Hire. Our Waverly location provides quality hire cars and friendly service at a great value price.
Let's go. Enter your rental dates in the form on the right to get a quote.
Car keys ready? We have put together some great suggestions below to ensure you get the most of your Edinburgh car hire.
Rent a car at Edinburgh Waverly Train Station
Edinburgh Station
Shop 4 Ambience On Burleigh
Burleigh Heads Qld
4220
Opening hours
sunday:

08:00 - 13:00 Hrs


monday:

08:00 - 17:00 Hrs


tuesday:

08:00 - 17:00 Hrs


wednesday:

08:00 - 17:00 Hrs


thursday:

08:00 - 17:00 Hrs


friday:

08:00 - 17:00 Hrs


saturday:

08:00 - 13:00 Hrs

Other Budget locations nearby
Budget Rent-A-Car at Edinburgh Waverly Train Station
Budget is located at the Waverley Rail Station in Edinburgh, in the Meet and Greet area.
Explore Edinburgh with Budget Car Hire
Car hire Edinburgh, Scotland and beyond
Edinburgh is Scotland's capital and located in the Central Belt region, which is a reasonable driving distance from many other locations. The city has a rich heritage that spans many centuries, and is also one of Europe's major centres for the arts.
Edinburgh has a number of historical sites, including castles and old churches, as well as newer attractions like art galleries, meaning it offers something for every taste. When you take a holiday, renting a car will ensure that you're able to see all of the local sights, including those that aren't right inside the city.
You'll enjoy the wealth of shops, art galleries and restaurants serving various types of cuisine. Edinburgh also has an exciting night life and is host to musical festivals, so you can be sure there is always some type of entertainment available.
The convenience of cheap car rentals allows you to see everything you're interested in, without spending time waiting for buses or trains. Some of the most popular sights to see in Edinburgh include Edinburgh Castle, the Abbey and Palace of Holyrood House, Greyfriars Kirkyard and the Scottish Parliament building.
Much of the city is designated as a UNESCO World Heritage site, ensuring that the city's character is preserved for future generations. With a rental car, you can see these and other sights very easily.
Since Budget has cars of various sizes available, you can find one that fits your travelling party's needs perfectly. Whether you are travelling with children or in a smaller group, you can find the perfect car hire cheap. If you want to take part in outdoor activities, there are fun options that are convenient to Edinburgh travellers.
Most are just a short drive from the city centre, and are open at all times. Salisbury Craigs and Arthur's Seat both offer excellent views of the city, as well as nice hiking opportunities.
The Craigs are ideal for less experienced hikers, while Arthur's Seat is quite challenging. When you decide on a hire car, you can easily see other areas of the surrounding countryside and tour the picturesque villages found near the city. Many of the villages and smaller towns offer great dining and shopping opportunities.
If you have a car rental, you can easily visit other nearby locations that allow you to experience the outdoors. East Lothian has some of the warmest weather in Scotland, and is located east of Edinburgh.
You'll be able to see beautiful beaches and gentle, rolling hills during a drive through this area. The whole region is a good place to relax and enjoy the outdoors during your holiday. You can also easily get to and from the different golf courses found in this area, without worrying about carrying your equipment.
The courses around Edinburgh always provide a challenging game of golf, and are certainly worthy of exploration. When you get a car hire cheap, you can easily explore nearby Fife, which is known for its beautiful scenery.
The area is mainly rural, with several smaller villages which exude charm. You can also see Silver Beach, which is renowned among the Scots and tourists alike. This beach is a popular summer holiday destination. The Pentland Hills Regional Park is another good place for lovers of the outdoors.
It is south of Edinburgh and about a half an hour's drive from the centre of the city. You can easily bring a bike along in your car, which allows you to more fully experience the excellent bike trails. These trails are great for all ability levels, from beginners to the most experienced of cyclists.