Cheap Car Hire at Dublin Airport (DUB)
Budget can be found in the main arrivals halls within both terminal buildings at Dublin Airport. Continue reading to find out why car rental in Dublin is simple and straight forward.
Rent a car at Dublin Airport
Dublin Airport
Dublin Airport - Terminal 1 And 2
Dublin
K67 T1H9
Tel: 353-1-8445150
Opening hours
sunday:

05:00 - 00:15 Hrs


monday:

05:00 - 00:15 Hrs


tuesday:

05:00 - 00:15 Hrs


wednesday:

05:00 - 00:15 Hrs


thursday:

05:00 - 00:15 Hrs


friday:

05:00 - 00:15 Hrs


saturday:

05:00 - 00:15 Hrs

Budget Rent-A-Car at Dublin Airport
View our convenient Budget car hire location on the map below.
Learn more about Dublin
Car rental in Dublin
Further away from the city offers visitors a wonderful choice of places to see. Perhaps Dublin's most surprising feature is the many beaches scattered along its coastline – all of which are only a few miles away including Killiney or Loughshinny beaches.
Fingal is a large area with a tranquil landscape and a number of attractions including Malahide Castle or Talbot Botanical Gardens.
If you need a car hire cheap rates are available from Budget and there are plenty of other places to visit away from the city including South Dublin County where you could take a drive to Corkagh Park Fisheries or Rathfarnham Castle Park.
For sailing enthusiasts, a visit to Dun Laoghaire Rathdown is a must, offering a wide choice of water activities including sailing or surfing, plus other attractions such as Dalkey Castle.
Explore Dublin with Budget car hire
Dublin is the capital city of Ireland and is steeped in history with an array of places to visit and attractions to see.
No trip to Dublin would be complete without a visit to the Guinness Brewery to take a tour of the famous stout production headquarters located at St. James Gate.
From art galleries including the National Gallery of Ireland to museums like the National Print Museum, there will be something for everyone in Dublin, so it may be an idea to hire a car from us to suit your needs.
Rental cars are available from a family saloon to a small hatchback. If walking through museums and galleries are not your idea of a great holiday or for something different, then how about a visit to Dublin Zoo situated in the Phoenix Park. Alternatively visitors could spend the day at one of the many parks and gardens including the National Botanical Gardens.
A great way to get around the city would be by car so that you can explore all that Dublin has to offer. The Keeling Gallery and the Irish Museum of Modern Art are among many attractions within the city. With over 1000 years of history, Dublin has a vast collection of historical places of interest and things to do or see including the Book of Kells which dates from 800 AD, or you could visit the National Library of Ireland.
With a cheap car rental from Budget you will have no trouble fitting in as much as possible during your stay. Plenty of golf courses can be found in and around Dublin, so having a car rental from us is an ideal way to get around them all. Plus there are numerous hiking and bike trails in and around the city and being the home of the famous Croke Park stadium you could always take a tour of the grounds if you tire of the footpath. offer cheap car rentals, so whether it is within the city or further a field you can be assured that no part of the city will be unreachable.
Dublin has no real extremes in weather, generally the winters are cold and the summers are warm. Cheap car rental rates are offered on all makes and models that are available to provide you with a comfortable journey no matter what the weather is like.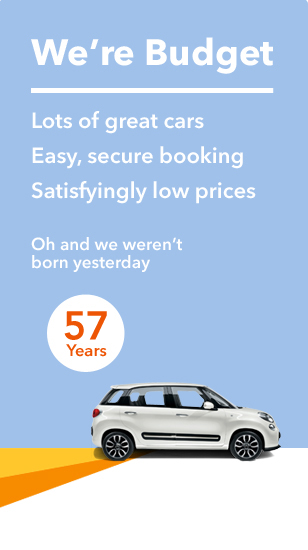 Other car hire locations