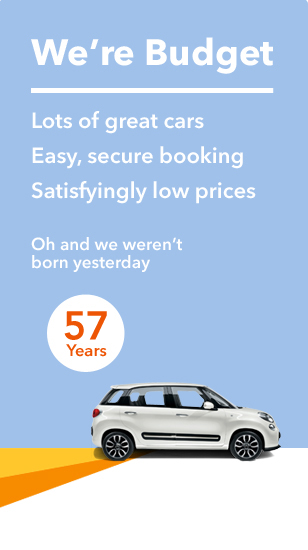 Other car hire locations
Car hire Toronto
If you are planning a holiday to Toronto, the best way to enjoy your stay is to take advantage of a Budget deal. Car rental is a great way for independent travelers to see the outstanding countryside around the city; our booking process could not be easier. You just need to enter your requirements into the form on the right and it will be done in minutes.
Rent a car in Toronto
Toronto
2190 Yonge Street 3Rd Floor
Toronto, On
M4S 2B8
Tel: 416-487-3471
Opening hours
sunday:

Closed


monday:

08:00 - 17:00 Hrs


tuesday:

08:00 - 17:00 Hrs


wednesday:

08:00 - 17:00 Hrs


thursday:

08:00 - 17:00 Hrs


friday:

08:00 - 17:00 Hrs


saturday:

Closed

Other Budget locations nearby
Budget Rent-A-Car in Toronto
View our convenient Budget car hire location on the map below.
Explore Toronto with Budget Car Hire
Explore in and around Toronto
You can take a trip out from the city to explore the countryside and view Lake Ontario.
Our vehicles come in all sizes to suit every occasion, whether you are taking the family away for a holiday or visiting Toronto for business.
If you are on a two or three-day excursion around the lake, nothing could be better than your own car.
When planning ahead, cheap family holidays are more than a possibility in Canada. Lake Ontario is the smallest of the Five Great Lakes, but it is still a massive body of water.
The southern shore lies in the United States region, and while staying in Toronto, you must not miss Niagara Falls. It is a distance of approximately 80 miles, so it is not too far from the city, especially by car.
If you are a wine lover, the Niagara region produces some good wines. You will have plenty of room for a few bottles in the boot of your car. This is yet another good reason to opt for cheap car hire rather than relying on pre-booked coach excursions.
If you are feeling energetic, park the car and take to The Bruce Trail, Canada's longest public footpath, into the spectacular Niagara Escarpment. It is worth the effort to explore, even though it can be a strenuous walk.
The areas around Toronto seem like one massive natural park, so visitors really cannot do without a car; booking car hire with us will provide you with the means to get out and enjoy this part of Canada at your leisure.
Car hire in Toronto
Toronto is Canada's largest city, situated on the shores of the magnificent Lake Ontario. It is a modern city and considered one of the best places to live in North America.
There is an activity to suit everyone's tastes here in this busy city. The Beaches district, to the east of Toronto, is a great place to spend the evening.
It has several restaurants and bistros, a mix of shops and a lakeside boardwalk for visitors to enjoy the spectacular views.

Families on holiday can explore the Toronto Zoo, which will provide a whole day's enjoyment. It is one of the largest zoos in the world, with over 450 animal species covering 710 acres.
You can explore the African Savanna or the Gorilla Rainforest, and after a hectic day, you will be pleased that you decided to opt for a hire car to get you back to your hotel without having to use public transportation.

A less energetic day could be a visit to Toronto's very own stately home – the 98-room Casa Loma. One of Canada's most impressive buildings, the Casa Loma is located in mid-town Toronto and contains everything you would expect from a grand European castle.

Visitors can take a short car ride to the Bloor-Yorkville area. There are plenty of car parks, so your rental car can be safely parked while you explore this celebrity hotspot.

There are up-market boutiques, antique shops and art galleries. When you need refreshment, there are some great eateries from first-class restaurants to friendly cafés.

Take a trip to Kensington Market, to get a true feel of Toronto's rich ethnic diversities. The shops are full of goods from around the world, and there are vintage boutiques selling fabulous second-hand clothes.
You might end up making so many purchases, you will be thankful you opted for our service. The thought of struggling on the metro with multiple shopping might put you off shopping; with car rental this is a worry off your mind.