Car hire Tampa
Need a fast, reliable car hire service in Tampa? Rent with Budget, we provide quality hire cars and a friendly service at a great value price.
Let's go. Enter your rental dates in the form on the right to get a quote.
Car keys ready? We have put together some great suggestions below to ensure you get the most of your Florida car hire.
Rent a car in Tampa, Florida
South Florida Ave
513 South Florida Avenue
Tampa
33602
Tel: 813-223-3089
Opening hours
sunday:

09:00 - 13:00 Hrs


monday:

08:00 - 18:00 Hrs


tuesday:

08:00 - 18:00 Hrs


wednesday:

08:00 - 18:00 Hrs


thursday:

08:00 - 18:00 Hrs


friday:

08:00 - 18:00 Hrs


saturday:

08:00 - 14:00 Hrs

Other Budget locations nearby
Budget Rent-A-Car in Tampa, Florida
View our convenient Budget car hire location on the map below.
Explore Tampa with Budget Car Hire
Car hire in Tampa and Florida
Tampa, the biggest city in Western Florida, attracts lots of visitors throughout the year due to its mild climate, tranquil waters and various attractions. A rental car is the most convenient option for a brilliant holiday in Tampa; especially if you would like to see all the magnificent places within the city or explore the outskirts.
Actually, just like almost everywhere in the US, a car is vital here. Budget offers several car hire stations, conveniently located throughout the city; we have an option of one-way car hire, so there is no need to go to the same pick-up point at the end of your journey. Get a quote and book your car by using the form on the right.
Top 7 places to see in Tampa and surrounding area.
Bush Gardens
One of the main attractions of the city, Bush Gardens Park is great fun for adults as well as children. It is a huge territory, packed with all sorts of rides and attractions and is also home to a wide variety of tropical animals. At their new Animal Care Centre, there is an opportunity to watch the staff taking care of animals, from nutrition and X-rays to surgeries.
Sunshine Skyway Bridge
If you happen to be in Tampa, then you really must go to Sunshine Skyway Bridge. You can drive there through Saint Petersburg, which doesn't take very long. There are dedicated fishing piers on both ends of the bridge, where you can watch a spectacular sunset and enjoy fishing at any time of day or night.
Lettuce Lake Park
Take you rental car for a short drive towards North Tampa to find yourself in a peaceful wild nature reserve. A perfect getaway for those tired of city hectic lifestyle, where the family can spend a lovely time walking, cycling, kayaking, watching the wildlife and picnicking.
Bayshore Boulevard
Enjoy the view of the sea and beautiful houses while walking the world's longest continuous sidewalk. If you are lucky enough, you will spot some dolphins, manatees or even hammerhead sharks from there.
Florida Aquarium
Arguably one of the best US aquariums. Head there to watch the variety of Florida waterways inhabitants; from colourful tropical fishes and sharks to birds and reptiles.
Ybor City
Feel the old atmosphere of a fast-growing cigar production centre that Tampa was at the beginning of the 20th century. Some of the factories, after being abandoned for half a century, have now become home for art galleries, restaurants and museums. There are still places where you can enjoy a cup of Cuban coffee and a fine hand-rolled cigar.
Saint Petersburg and Clearwater
A visit to Saint Petersburg will require at least one day; but if you do have it – don't hesitate, as it is a lovely city. Among its main attractions are Salvador Dali Museum (the second largest in the world) and, as many will agree, the beaches. If you are looking for yet another astonishing sunset, head to Clearwater beach and you won't be disappointed.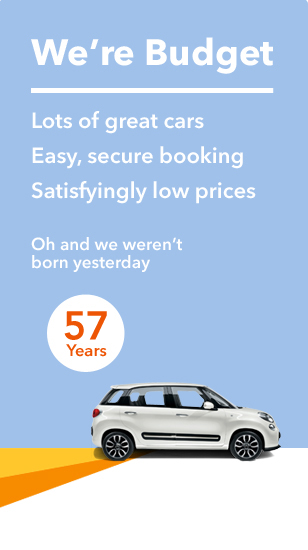 Other car hire locations