Car hire Hawaii Airport
Enjoy your time in Hawaii with Budget Car Hire. Our airport location provides quality hire cars and friendly service at a great value price.
Let's go. Enter your rental dates in the form on the right to get a quote.
Car keys ready? We have put together some great suggestions below to ensure you get the most of your car hire.
Rent a car in Hawaii Airport
Honolulu Airport
Hnl Honolulu Intl Airport
Honolulu
96819
Tel: 808-210-0050
Opening hours
sunday:

05:00 - 01:00 Hrs


monday:

05:00 - 01:00 Hrs


tuesday:

05:00 - 01:00 Hrs


wednesday:

05:00 - 01:00 Hrs


thursday:

05:00 - 01:00 Hrs


friday:

05:00 - 01:00 Hrs


saturday:

05:00 - 01:00 Hrs

Budget Rent-A-Car at Honolulu International Airport
View our convenient Budget car hire location on the map below.
Explore Hawaii with Budget Car Hire
Car hire in and around Hawaii
Hawaii is a great destination for golf lovers, with Big Island being its golf capital. However, bear in mind that during the big tournaments the hotel prices can go up significantly.
Another thing to keep in mind is that Hawaii is situated close to equator, which means early sunsets (which are, as everyone knows, pretty amazing).
Thanks to this, there is a very little time between the sunset and the moment when it becomes completely dark.
It especially makes a difference if you want to go hiking in one of Hawaiian national parks for a whole day.
Oahu Island
The most well-known of Hawaiian Islands, Oahu is home to 80% of the state's population, half of which lives in Honolulu, the capital of the state. It also features the best-developed infrastructure among the islands. While planning your journeys on Oahu, remember to take into account the rush hours, when the traffic gets heavy: from 6 to 8am and from 4 to 6 pm. Also, due to the density of the population, it can be hard to find a parking slot in Honolulu city centre and Waikiki area.
Among the world-famous Oahu attractions are the USS Arizona Memorial in Pearl Harbour and the Diamond Head Summit Trail in Honolulu. There are, however, places to discover that are less largely known, such as Manoa Falls, Waimea Valley and Haleiwa town. Aloha Stadium Swap Meet is an ultimate place to visit for bargain shopping, where you can buy everything from souvenirs to fresh pineapples.
Big Island
The biggest, but also the youngest among Hawaiian Islands. There are two main cities in Big Island, Kona and Hilo. In terms of attractions, of course, a tour to Hawaii Volcanoes National Park is a must here. However, here are some places that we strongly recommend you to visit: Anaeho'omalu beach, Hawi town, Pololu Valley, Pu'uhonua o Honaunau National Historical Park, to name just a few. Drive your rental car along the scenic Kohala mountain road – the views won't disappoint.
Maui
Renowned for its gentle sun and also the particular kind of waves, Maui is said to be the best surfing place in Hawaii. But don't worry if you are not a surfing addict: there are lots of other activities and places that are just perfect for a dream holiday.
Haleakala National Park, a legendary place in Hawaiian culture, is a must-see destination for many tourists, and one of the best places in the world to observe the night sky. From November to April, the whale-watching boat trips are organised from Maui Island, as it's the period when humpback whales come from Alaska to spend the winter in warm Pacific waters.
The general advice is to choose one or two islands for your holiday, as they are all different and there are quite a lot of things to do on each.
Hiring a car in Hawaii is essential, as there is almost no reliable public transport, except from Oahu Island. And still, even on Oahu a rental car will give you much more freedom and choice of places for your itinerary.
Budget Rent a Car offers conveniently located stations in Oahu, Big Island, Maui and Kauai Islands.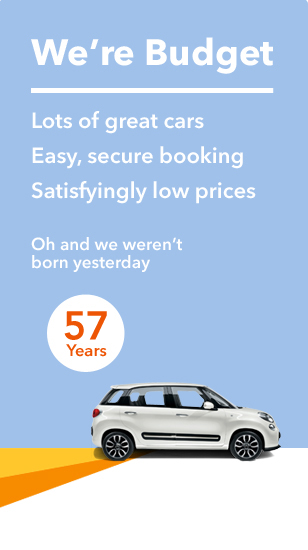 Other car hire locations