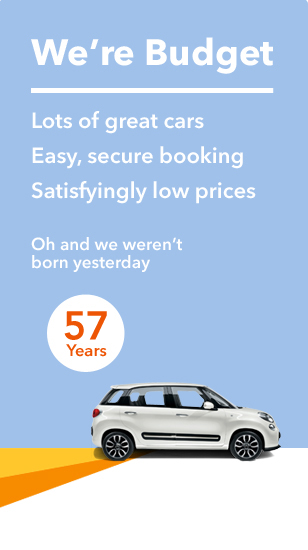 Other car hire locations
Car hire Edinburgh
Need a fast, reliable car hire service in Edinburgh? Rent with Budget, we provide quality hire cars and a friendly service at a great value price.
Let's go. Enter your rental dates in the form on the right to get a quote.
Car keys ready? We have put together some great suggestions below to ensure you get the most of your Edinburgh car hire.
Rent a car in Edinburgh
Edinburgh
24 East London Street
Edinburgh
EH7 4BQ
Tel: 03445449064
Opening hours
sunday:

10:00 - 14:00 Hrs


monday:

08:00 - 18:00 Hrs


tuesday:

08:00 - 18:00 Hrs


wednesday:

08:00 - 18:00 Hrs


thursday:

08:00 - 18:00 Hrs


friday:

08:00 - 18:00 Hrs


saturday:

08:00 - 15:00 Hrs

Other Budget locations nearby
Budget Rent-A-Car Edinburgh City
View our convenient Budget car hire location on the map below.
Explore Edinburgh with Budget Car Hire
Car hire with Budget in Edinburgh City
Scotland has some breathtaking countryside, from the Highlands of the north to rolling beaches and gentle green fields in the south.
Having a rented car allows visitors to explore these regions. Between Edinburgh City and Rosslyn Castle is Melrose Abbey, where the heart of the famed Scottish hero Robert the Bruce is buried.
In fact, along the Scottish borders are a series of abbeys worth exploring. Further north, see Ben Nevis, the highest mountain in Britain.
The Highlands are rife with history, from Urquhart Castle to Glencoe, where skiing and snowboarding takes place today, and much of the filming of the third Harry Potter film, Harry Potter and the Prisoner of Azkaban, took place.
The fantastically rugged and wild scenery of the highlands is awe-inspiring.
It is possible to explore all of Scotland with rental cars from Budget. If on a holiday with the family, there are a multitude of family-fun activities in and around Edinburgh.
From Edinburgh Zoo, where an impressive amount of animal species, including two of the rare and wonderful Giant Pandas, are housed, to an adventure park outside of the city with climbing frames and zip lines, there are hundreds of opportunities for fun and memories around the city.
Edinburgh city is the capital of Scotland and is surrounded by activities and attractions that will delight visitors of every age.
Whether it is a romantic weekend for two or a family holiday, there is certain to be something to do in or around Edinburgh city for every taste.
Rental cars allow visitors to spread their wings and explore more of the Scottish countryside at their ease. After the huge success of the book and film The Da Vinci Code, Rosslyn Chapel has seen a surge in the numbers of annual visitors.
Thanks to this, the reconstruction works continue and this magnificent and mysterious chapel survives to live another day. It is open every day except major holidays such as Christmas Day, and offers an unforgettable experience.
Situated less than ten miles from Edinburgh city centre, it makes an ideal afternoon trip with your cheap hire car from Budget. Loch Ness, home of the famous - or perhaps infamous - Nessie, the Loch Ness Monster, makes for a great trip over one or two days.
It is some three hours drive from Edinburgh city, but the remarkable wild moorland and dominating mountain landscape traversed makes it all the more worthwhile. With a car rental, cheap travel is easier and more convenient than trying to organise public transport, especially when you have the kids in tow.
St. Andrews, a beautiful town, which is home to the famous St. Andrews University, lies just across the Forth Road Bridge from Edinburgh. The suspension bridge is something of a wonder, stretching 2.5 kilometres and worth a look in itself.
Further on, St. Andrews is a stunning town, especially when viewed in the blazing sunshine. It is known as the home of golf, and has public links for visitors to knock a few balls around where master golfers have walked before.
A medieval town, there are some wonderful ruins for visitors to explore and enjoy. A cheap car rental from Budget allows visitors to make the journey in slightly over an hour.