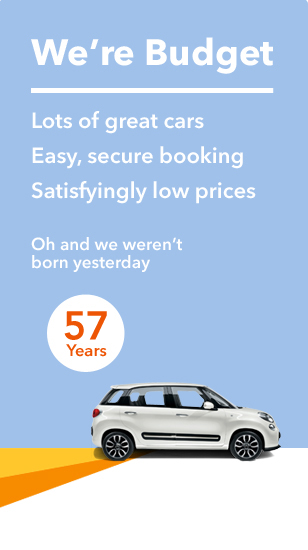 Other car hire locations
Car hire Bristol
Need a fast, reliable car hire service in Bristol? Rent with Budget, we provide quality hire cars and a friendly service at a great value price.
Let's go. Enter your rental dates in the form on the right to get a quote.
Ready to go? We have put together some great suggestions below to ensure you get the most of your Bristol car hire.
Rent a car in Bristol
Bristol
Unit 1000 The Quadrant
Bristol North
BS32 4QA
Tel: 0344 544 9789
Opening hours
sunday:

Closed


monday:

08:00 - 18:00 Hrs


tuesday:

08:00 - 18:00 Hrs


wednesday:

08:00 - 18:00 Hrs


thursday:

08:00 - 18:00 Hrs


friday:

08:00 - 18:00 Hrs


saturday:

08:00 - 16:00 Hrs

Other Budget locations nearby
Budget Rent-A-Car in Bristol
View our convenient Budget car hire location on the map below.
Explore Bristol with Budget Car Hire
Car hire in Bristol, the West Country and beyond
There are many scenic car trips that may be taken from Bristol; the question is where to begin? One of the more popular car trips from Bristol is to Wiltshire in the West Country.
The popularity of this journey lies in the fact that there are so many attractions to be found along the route. For example, the historic Stonehenge can be visited on Salisbury Plain.
Alfred's Tower, which pays homage to the great medieval king, is also located in Wiltshire. Another popular car trip to be taken from Bristol is to the county of Somerset.
By taking this trip, you can visit the Roman Baths Museum in Bath, which is built within an ancient Roman defence point. This museum gives visitors insight into ancient culture.
The cathedral at Wells is another popular visitor attraction in Somerset. This church was constructed between the years 1175 and 1490, and is particularly notable for being an example of the Early English architectural style.
Of course, these attractions are in addition to the pleasing landscape that is a feature of Somerset.
Yes, there are many things to see in Somerset, and a cheap car hire from Budget gives you the chance to see them close up.
Thanks to the fact that many of our cars have GPS, you will be able to find all major attractions without any navigation problems.
Located in the south-west of England, Bristol is a city with many cultural and historical landmarks.
Bristol's connection with the New World through its port - a centre of the slave trade in the 18th century - offers a unique view of history and many interesting architectural styles will also be seen in Bristol.
Bristol is also a city that is known for its nightlife, and it's not hard to have a good time in the evening. There are many entertainment venues to choose from; whether you're seeking a dance club or just a good pub you will not be disappointed.
Any one of these aspects of Bristol may be explored with the help of car hire cheap from Budget. There are many types of rental cars available, and whether you are carrying one passenger or six, you will find the type of vehicle you are looking for.
A visit to Brunel's ship, the SS Great Britain, gives visitors a glimpse of England's history of travel to the United States. This impressive vessel is a short distance away from the centre of Bristol, you can reach it using our service.
When in Bristol you should also visit Brunel's Clifton Suspension Bridge that, after years of construction difficulties, was finally declared open in 1864.
Another of the most important landmarks in Bristol is the cathedral, which was founded in 1140. The history of the building, as well as its Gothic architecture, help to make this one of the most popular attractions in all of Bristol.
If you're just looking for a little fun with the family, a great spot to visit is At-Bristol. This education centre offers several interactive exhibits. These exhibits are mostly geared toward educating children about science and technology.
These are just a few of the notable attractions in Bristol. With a low cost hire car from Budget, you can easily get from place to place quickly and conveniently.