Car hire for drivers under 25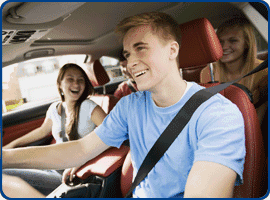 If you're under 25 you may think car rental is a problem. Not with Budget car hire.
We have identified the key questions younger drivers ask about car hire. We understand car rental can seem complicated and it's our goal to change this and make all our products and services straightforward and transparent for our customers.
How old do I have to be to hire a car?
The minimum age required for car hire will depend on where you're picking up your vehicle. In most European and North American locations, the minimum age to rent a car is 21, and in Scandinavia it is 19. In the UK, you'll need to be at least 23 years old.
Age restrictions also vary by vehicle and selected car groups are not available to drivers aged under 25.
Do I have to pay extra as I'm under 25?
If you (or any additional drivers) are aged under 25 you will each have to pay a Young Driver's Surcharge. The amount you pay will depend on where you 're picking your vehicle up.
How much is the Young Driver Surcharge ?
The cost varies by country, and by car type. In the UK, the Young Driver Surcharge starts at £32.50* per day (including VAT), capped at 10 days.
* Prices quoted are for rentals collected from "Standard" UK locations. Rentals from "Premium" locations will be £37.70 per day, capped at 10 days.
How are Young Driver Charges applied?
All charges are payable at the rental station upon pick up.
How long do I need to have held my licence for?
It depends on where you are picking up your vehicle. In most European countries, including the UK, you'll need to have held a full driving licence for a year, although some European countries, such as Germany, only require 6 months. In the USA and Canada, the requirements can vary by state or province.
For certain car groups, we may ask that you have held your licence for longer.
For more information please check Location Specific Conditions - Driving Licence and ID requirements section or speak to our reservations team.
How can I get a quote?
Get a quote from the Budget homepage or use the booking panel on this page. Please ensure that you uncheck the "Driver aged between 30 and 70" box and provide your date of birth when prompted.
Once you have selected the rental location, dates and choice of car, we'll show you the vehicles that are available to under 25s and let you know of any extra requirements or restrictions, including minimum driver age and Young Driver Surcharge.
If you have any further questions about our Young Driver Charges, please do not hesitate to call our reservations team on 0808 284 4444.