Spend less, do more this summer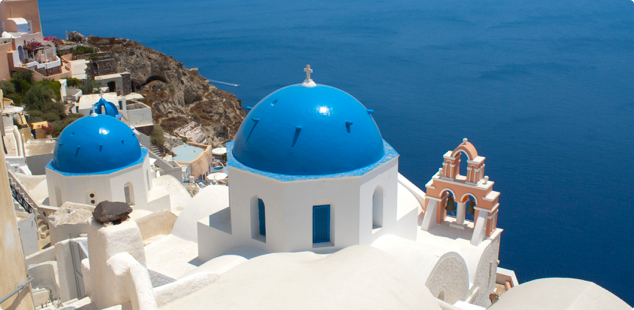 Enjoy 7 days' car hire for the price of 5 – and up to 20% off when you pre-pay online
Take some well-earned time off and explore Europe this summer. What's on the list? A spa-crawl in Baden-Baden then a purr around the Black Forest? A cafe-crawl in Rome before a Mediterranean-coast jaunt down to Naples? Perhaps a day or two of Barcelona's architectural acrobatics followed by a steer past sleepy fishing villages to the birthplace of paella, Valencia?
A week's road trip won't break the bank: with Budget, when you rent for a week you pay for just 5 days. Plus, when you book and pre-pay on budget.co.uk you'll get up to a 20% discount on our pay on arrival price. Just in time for summer.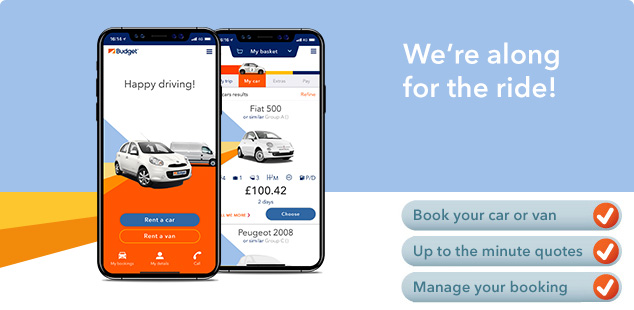 Download the Budget app ...
Bookings are quicker, faster and easier than before with Budget on iOS and Android.
Terms & conditions
Offer valid at participating European locations in Belgium, Germany, France, Italy, Macedonia, Netherlands, Portugal, Spain and the UK; and participating African locations in Senegal. Participating countries and branches will vary and may change at any time and without prior notice.
Offer is only valid for Pay on Arrival (Pay Later) and Pre-Pay (Pay Now) rentals booked directly with Budget online or by phone.
The ʺextraʺ days' rental will be illustrated through the vehicle prices for eligible dates and locations being the same for 5-day, 6-day and 7-day rental periods.
Any additional cover (e.g. excess reduction, waivers, etc.) or optional extras (e.g. GPS, child seats, etc.) are not included free of charge during the ʺextraʺ days and will be charged for the duration of the rental.
All rentals are subject to an excess; optional coverage is available locally to reduce this excess.
All rentals may be subject to additional surcharges for one-way journeys and voluntary options (e.g. for special equipment, additional drivers, young drivers, optional coverage, fuel, etc.).
Price includes unlimited mileage, Theft Cover, Damage Cover, Vehicle Licence Fee, Airport Charges and local taxes where applicable.
This offer is not available for bookings of Budget vans.
Claims related to damage or theft is subject to a contribution from the renter which can be reduced by purchasing optional waivers.
Prices will vary by car type, rental length, date and Budget location.
Renter must meet the applicable Budget age, driver and credit requirements for the rental station you wish to rent from.
Minimum age may vary by location.
Offer may not be used in conjunction with any other Budget Customer Discount (BCD) code, coupon or offer.
Discount offer subject to availability.
Cancellation charges apply.
No other Budget Customer Discounts (BCDs) can be used in conjunction with this offer.
Up to 20% prepay discount available in Belgium, Denmark, Finland, France (Mainland), Netherlands, and the United Kingdom (corporate locations).
Up to 15% prepay discount available in Hungary, Lithuania, Mauritius, Slovenia, Spain (mainland), Slovenia, Sweden, Switzerland and Ukraine.
Up to 10% prepay discount available in Austria, Botswana, Bulgaria, Croatia, Estonia, France (non-corporate locations), Germany, Greece, Italy, Latvia, Morocco, Namibia, Norway, Poland, Portugal, Qatar, Romania and South Africa.
Up to 5% prepay discount available in Albania, Angola, Bahrain, Bosnia, Cyprus, Czech Republic, Egypt, Ghana, Iceland, Ireland, Israel, Ivory Coast, Jordan, Kenya, Kuwait, Lebanon, Lesotho, Luxembourg, Macedonia, Madagascar, Malta, Montenegro, Oman, Reunion Island, Saudi Arabia, Senegal, Serbia, Slovakia, Spain – Canary Islands, Togo, Tunisia, Turkey, United Arab Emirates, United Kingdom (non-corporate locations), Yemen, Zimbabwe.
Discounts available at participating locations only and are subject to vehicle availability.
Budget Booking Terms and Conditions apply to the booking.
Budget Rental Terms and Conditions apply to the rental.
Budget reserves the right to amend or withdraw the offer at any time.