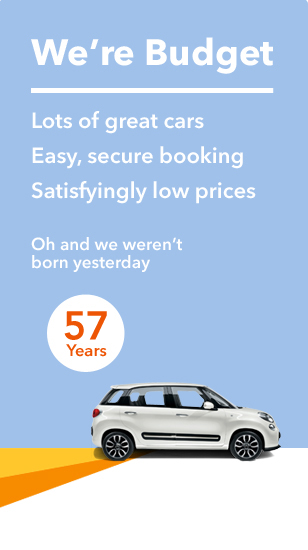 Other car hire locations
Car hire Swindon
Need a fast, reliable car hire service in Swindon? Rent with Budget, we provide quality hire cars and a friendly service at great value prices.
Rent a car in Swindon
Budget Swindon
Bridge End Road
Swindon
SN3 4PD
Tel: 03445444850
Opening hours
sunday:

Closed


monday:

08:00 - 16:00 Hrs


tuesday:

08:00 - 16:00 Hrs


wednesday:

08:00 - 16:00 Hrs


thursday:

08:00 - 16:00 Hrs


friday:

08:00 - 16:00 Hrs


saturday:

Closed

Budget Rent-A-Car in Swindon
You'll find us on Bridge End Road, between the A4311 and A4312 which lead out of Swindon to the north and east and provide quick access back into town and to the main routes out of Swindon, the M4 running east-west and the A346 running north-south. Bridge End Road runs between the BMW plant and the Greenbridge Industrial Estate. View our convenient Budget car hire location on the map below.
Explore Swindon with Budget Car Hire
Car hire in Swindon, Wiltshire and beyond
Swindon in Wiltshire is conveniently located between Bristol and Reading on the M4. With quick rail links to London and a situation in the heart of the M4 corridor it is a popular location for a variety of businesses.
Swindon is known, amongst other things, for its intricate and innovative Magic Roundabout, the Swindon Town Football Club and the Foxhill Motocross Club.
The town is home to campuses from Oxford Brookes University and the University of Bath.
Our standard Swindon car hire quotes include all essential tax and insurance, including Collision Damage Waiver (CDW). However you can choose from additional insurance options to reduce your excess and cover windscreen and other types of damage.
Choose from a wide range of rental cars for hire to suit your requirements and budget - family cars, economy cars, utility vehicles and vans of all sizes.

Whether you rent a petrol or diesel car you'll find Budget's Swindon fleet to be less than 2 years old and serviced after every rental so they are fuel-efficient, saving you money at the petrol station. You can buy a tank of fuel up-front and return the vehicle empty or fill up yourself before returning it to one of our Swindon rental locations.
Please ensure that you collect your hire car from our Swindon branch at the agreed time and within our published opening hours. You will need to bring both parts of your driving licence.