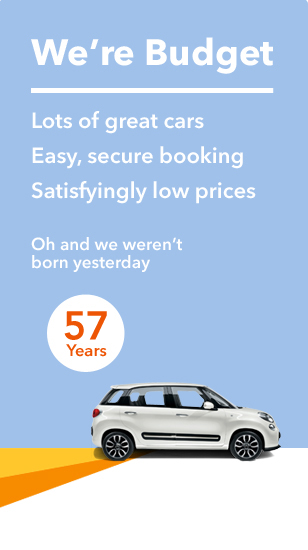 Other car hire locations
Car hire Milton Keynes
Looking for somewhere to take the children during the school holidays but not wanting to spend a fortune on travelling abroad? Check out Milton Keynes. Not your expected destination but a modern place that is all about families, children and the future.
Rent a car in Milton Keynes
10 Duncombe Street
10 Duncombe Street
Milton Keynes
MK2 2LY
Tel: 03445447802
Opening hours
sunday:

Closed


monday:

08:00 - 18:00 Hrs


tuesday:

08:00 - 18:00 Hrs


wednesday:

08:00 - 18:00 Hrs


thursday:

08:00 - 18:00 Hrs


friday:

08:00 - 18:00 Hrs


saturday:

08:00 - 13:00 Hrs

Other Budget locations nearby
Budget Rent-A-Car in Milton Keynes
View our convenient Budget car hire location on the map below.
Explore Milton Keynes with Budget
Car hire in Milton Keynes
Milton Keynes has many sights and attractions that are worthy of note, being a modern city, its inhabitants are provided with a wide array of amenities such as shops and leisure centres.
For those who enjoy the alpine pursuits, Milton Keynes possesses an indoor real snow ski slope and rock climbing wall as well as a number of golf courses in the surrounding area.
Make sure to look at the larger cars in the Budget range to stow away your equipment if hoping to take advantage of these activities.
A fascinating excursion whilst in Milton Keynes is to take the short drive to Bletchley Park near the town of Bletchley.
It was here that British code breakers first deciphered the Enigma messages during the Second World War, doing much to shorten the conflict and save allied lives.
The house now acts as a museum where you can find out about the first programmable computer 'Colossus' and the work of Bletchley Park's most famous operator, Alan Turing.
You will find plenty to occupy the children such as Mead Open Farm with its Digger village which is amazing fun! Ride on diggers and construction vehicles or the karts as well as lots of other kiddy related activities. T
here's also Moley's Mine where children can have great fun getting dirty scrambling through tunnels to find Moley himself as well as treasure.
Activity Land is one of Milton Keynes biggest attractions for the young with water jets, gold panning, inflatable's and play frames.
If you're embarking on a trip like this with your family, make sure you get all you need from Budget for a secure and comfortable ride.
Allow plenty of room for the children and all their paraphernalia in your chosen hire car and take advantage of the correct child car seats that Budget can supply you with
Business travellers will want to take advantage of Budget's corporate rates or join the BusinessConnections programme.
With such a wide range of vehicles your travel requirements are guaranteed to be met and your onward journey will be comfortable and enjoyable.
If you are visiting Milton Keynes itself or using the city as a stepping stone to explore the rest of the country.
Budget's services are highly recommended for all manner of travellers. Be sure to book online and in good time to secure even lower prices for your car hire experience.