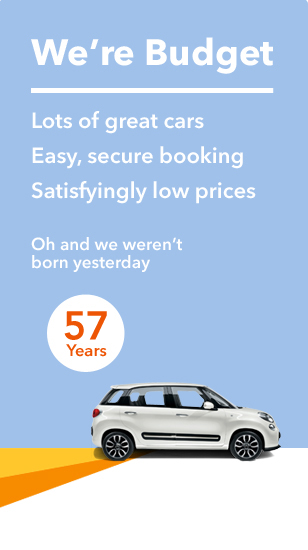 Other car hire locations
Car hire Maidstone
Need a fast, reliable car hire service in Maidstone? Rent with Budget, we provide quality hire cars and a friendly service at a great value price.
Need some inspiration? We have some great suggestions below to help you get the most of your Maidstone car hire.
Rent a car in Maidstone
Tonbridge Road
Corpus Christi Hall
Maidstone
ME14 1JP
Tel: 03445446079
Opening hours
sunday:

Closed


monday:

08:00 - 18:00 Hrs


tuesday:

08:00 - 18:00 Hrs


wednesday:

08:00 - 18:00 Hrs


thursday:

08:00 - 18:00 Hrs


friday:

08:00 - 18:00 Hrs


saturday:

08:00 - 15:00 Hrs

Budget Rent-A-Car in Maidstone
View our convenient Budget car hire location on the map below.
Explore Maidstone with Budget Car Hire
Car hire in Maidstone, Kent and beyond
Maidstone is the county town of Kent and is located about 50 kilometres from London.
This area has a wide variety of historical monuments, as well as a good helping of the beauty for which the English countryside has become famous.
One of the most popular attractions in Maidstone is Leeds Castle, which has long been considered one of Britain's most romantic castles.
While its history dates back to the early 12th century, it was overhauled in the 19th century, so most of the structure that stands today is from that period.
With our car rental services you can take in the grandeur of Leeds Castle without having to worry about public transport timetables. Another popular monument in Maidstone is Mote Park, which was once a country estate until it was turned into a public park in the 18th century. The facilities here are extensive and are designed to satisfy a variety of tastes, including an angling club, a sailing club, several cycling routes and a mini golf course.
There are also several activities geared specifically toward children, in particular the Adventure Playzone. If you are interested in taking in a little culture, then there is no better attraction than Maidstone Museum & Art Gallery, which has various collections of artefacts. This area of England has the richest Anglo-Saxon heritage in the country, which is why it is fitting that the Maidstone Museum & Art Gallery has the most extensive collection of such artefacts. Another major attraction of this museum is the fact that it has one of the most extensive collections of Japanese art and culture outside of the Japan.
This part of Britain is extremely scenic and there are many car trips that may be taken by visitors based in Maidstone. One of the more popular destinations in this area is Stonehenge: a wonder of the ancient world, this strange monument has long drawn visitors from all over the planet. For another stunning car trip, you can take in the university towns of both Oxford and Cambridge. These towns date back at least to medieval times and highlight the rich educational tradition for which Britain has become known.
In Oxford, the spires will hold you in awe, while in Cambridge, the towering King's College Chapel and Cambridge University Library should not be missed. If you are looking to experience medieval history, then there are few destinations better than Hampton Court.
This palace is a sight to see, with both the Baroque and Tudor architectural styles represented. At Hampton Court, there are many items to see from various eras of British history and any history buff will be in seventh heaven here.
Now that you know all important landmarks to see on your holiday, start planning your trip by taking advantage of one of our many cheap car hire offers.