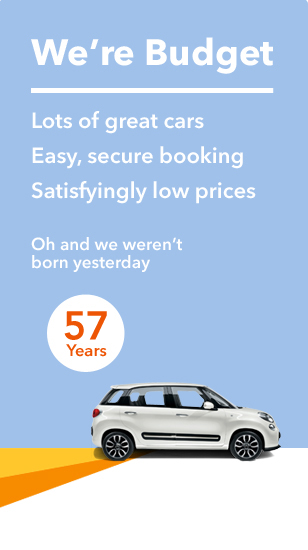 Other related car rental locations
Car hire Crawley
Need a fast, reliable car hire service in Crawley? Rent with Budget, we provide quality hire cars and a friendly service at a great value price.
Let's go. Enter your rental dates in the form to get a quote.
Rent a car in Crawley
Crawley, Arora Hotel
Arora International Hotel
Crawley
RH10 6LW
Tel: 03445447592
Opening hours
sunday:

Closed


monday:

08:00 - 16:00 Hrs


tuesday:

08:00 - 16:00 Hrs


wednesday:

08:00 - 16:00 Hrs


thursday:

08:00 - 16:00 Hrs


friday:

08:00 - 16:00 Hrs


saturday:

Closed

Explore Crawley with Budget Car Hire
Car hire in Crawley, London and beyond
Crawley in West Sussex is very close to Gatwick Airport, and a convenient stopover for business travellers and those arriving in and leaving the UK from the airport. For business and leisure travellers, Budget car hire provide great low-price rentals, book your vehicle online for the best price and selection from our large fleet.
Crawley expanded rapidly after WW2 and supports manufacturing and service companies, many of them connected to the airport. If you are visiting Crawley on business, you'll find our friendly staff ready to assist you and get you on the road quickly.
Crawley is convenient for motorway access to London and the South coast of England, and close to Brighton (just 45 minutes' drive) and Central London (1.5 hours' drive).
Beyond Crawley
Tilgate Park
Just a few minutes' drive from Crawley town centre, Tilgate Park is a 2,000-acre former country estate where you can enjoy walking trails through pine forests and Tilgate Lake, offering kayaking, canoeing, paddle boarding, dinghy sailing and rowing boats. Take a stroll through the Walled Garden, which has a show garden, maze, cafe and picnic area.
Nymans
Nymans is a National Trust property with a large exotically planted garden surrounding the partial ruins of the mansion house.
Gatwick Aviation Museum
Gatwick Aviation Museum offers a celebration of the post war boom years in the British aviation industry, with guided tours and events. The museum is 15 minutes' drive from Crawley.
For those who are new to the Crawley area you could include GPS in your car hire reservation, just select the option when you make your reservation online or ask our counter staff when you collect your rental vehicle.
Whether visiting Crawley for business or leisure, Budget car hire is the ideal way to make the most of your stay.